The angel said to her, "Do not be afraid, Mary, for you have found favor with God. And now, you will conceive in your womb and bear a son, and you will name him Jesus. He will be great, and will be called the Son of the Most High, and the Lord God will give to him the throne of his ancestor David. He will reign over the house of Jacob forever, and of his kingdom there will be no end." 

Luke 1:30-33
The Hail Mary is a Scripture-based prayer in which we meditate on words from the Gospel of Luke. In the second half of the prayer, we ask Mary to intercede for us and bring us closer to her Son, Jesus.
It's also the heart of the Rosary, in which we pray with Mary while contemplating the sacred mysteries, or significant moments, of Jesus' life, death, and Resurrection.
The Hail Mary is traditionally prayed by Catholics, but many people (both Christian and non-Christian) feel drawn to Mary. They recognize her powerful witness as a faithful disciple of Christ and seek her aid as a compassionate spiritual mother.
Along with the Lord's Prayer (Our Father), the Hail Mary is one of the first prayers that Catholics learn in their journeys of faith.
Churchgists has provided a well detailed information on the aforementioned and so much more. You will find these details very useful in whatever course you intend to use them for.
Origin
The Hail Mary is rooted in Scripture — the initial lines are taken directly from the first chapter of the Gospel of Luke. We read that God sends the Angel Gabriel to proclaim to the Virgin Mary that she is to bear the Son of God. Upon coming to her, the Angel greets Mary, saying, "Hail, favored one! The Lord is with you" (Luke 1:28). We address Mary in the same way at the beginning of our prayer.
Mary gives her full consent to God's plan of salvation, and the Angel departs from her. Then she sets out in haste to visit her cousin Elizabeth, who, in her old age, is six months pregnant with a son; "for nothing will be impossible for God" (Luke 1:37).
As soon as Mary enters the house and greets Elizabeth, the infant leaps in her womb.
And Elizabeth, filled with the holy Spirit, cried out in a loud voice and said, "Most blessed are you among women, and blessed is the fruit of your womb. And how does this happen to me, that the mother of my Lord should come to me?"

Luke 1:41b-43
Initially adapted from Scripture in Latin, we recognize the many verses from Luke that form the Hail Mary in English today.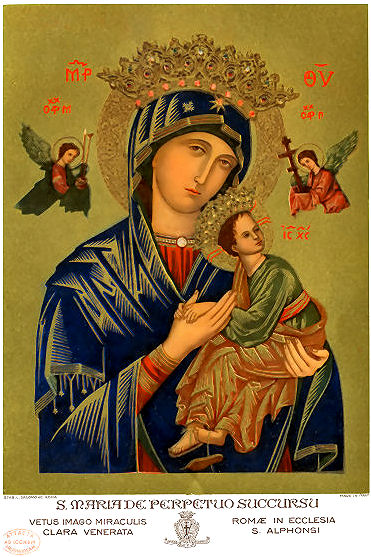 Why do Catholics pray the Hail Mary?
To trust God as Mary did
Each time we pray the Hail Mary, we recognize the holiness of the Blessed Virgin Mary and her unhesitating, unwavering acceptance of God's will for her life. Theologians call Mary's beautiful "Yes" to God at the Annunciation her"fiat"— Latin for let it be done." At every moment, Mary placed her complete trust in God's plan for the world. When we pray, we remember her humble yes" and seek to have the same disposition before God in our relationships with Him.
To ask Mary for her guidance and prayers
St. Padre Pio said, "Abandon yourself in the hands of Mary. She will take care of you." When we pray the Hail Mary, we abandon ourselves to Mary, who is not only Jesus' mother but ours as well. Before his death on the cross, Jesus entrusted all of his disciples to Mary and her spiritual maternity (John 19:26-27). So we trust that, as our greatest intercessor in Heaven, she is praying for us without ceasing.
To know Christ more fully
One thing is clear: although the repeated Hail Mary is addressed directly to Mary, it is to Jesus that the act of love is ultimately directed, with her and through her.

Pope St. John Paul II, Rosarium Virginis Mariae Apostolic Letter (2002)
God chose Mary as the singular vessel for His Son to come down to earth and save the world. In our faith, we do not worship Mary; she remains a creature, beloved by God. But we do honor her because she is the "disciple par excellence" – the perfect follower of Jesus. Everything she is and does points to him. So through her, who knew him best, we come to know Christ more fully.
The Hail Mary prayer stems from two passages in the gospel of Luke. The first one, found in Luke 1:28, says, "Hail, full of grace, the Lord is with you!" This was mentioned by the angel Gabriel when she greeted Mary; this event is also known as the Annunciation. The second passage can be found in Luke 1:42, and it says, "Blessed are you among women, and blessed is the fruit of your womb!" These words were said by Elizabeth when she visited Mary and greeted her. To many Catholics, this event is also called the Visitation.
Though the two verses are from the same book in the Bible, these lines were not put together until about the 11th century. According to the Catholic Encyclopedia: 
In point of fact, there is little or no trace of the Hail Mary as an accepted devotional formula before about 1050. All the evidence suggests that it took its rise from certain versicles and responsories occurring in the Little Office or Cursus of the Blessed Virgin which just at that time was coming into favor among the monastic orders. Two Anglo-Saxon manuscripts at the British Museum, one of which may be as old as the year 1030, show that the words 'Ave Maria' etc. and 'benedicta tu in mulieribus et benedictus fructus ventris tui' occurred in almost every part of the Cursus, and though we cannot be sure that these clauses were at first joined together so as to make one prayer, there is conclusive evidence that this had come to pass only a very little later.
In its early years, the prayer was only composed of those two verses (Luke 1:28 and Luke 1:42) and was called the "Salutation of the Blessed Virgin." Later on, the second half of the prayer was added. Back then, it was published in Latin, with the title "Ave Maria."
The Ave Maria, however, was only officially finalized when the Catechism of the Council of Trent was published. There, it was referred to as the "Angelical Salutation." Later on, the prayer was incorporated into the Roman Breviary of 1568. Since then, it has been in use widely and is known by a huge majority of Catholics.
Hail Mary Prayer
Hail Mary, full of grace,
the Lord is with you.
Blessed are you among women,
and blessed is the fruit of your womb, Jesus.
Holy Mary, Mother of God,
pray for us sinners,
now and at the hour of our death.
Amen.
The Hail Mary in Latin
Ave Maria, gratia plena,
Dominus tecum,
benedicta tu in mulieribus,
et benedictus fructus ventris tui Iesus.
Sancta Maria mater Dei,
ora pro nobis peccatoribus,
nunc, et in hora mortis nostrae.
The Hail Mary in Spanish
Dios te salve, Mara,
llena eres de gracia,
el Seor es contigo.
Bendita tu eres entre todas las mujeres,
y bendito es el fruto de tu vientre, Jesus.
Santa Maria, Madre de Dios,
ruega por nosotros, pecadores,
ahora y en la hora de nuestra muerte.
Amen
Orthodox Hail Mary Prayer
The Hail Mary, also known as Hail Mother of God, The Angelic Salutation, or Ave Maria (Latin title used by Roman Catholics) is a traditional Christian prayer asking for the intercession of the Holy Virgin Mary known in the Orthodox Church as Theotokos (meaning "God-bearer" or "Birth-giver to God"), the mother of Jesus Christ. The Hail Mary is used by Orthodox Christians (Eastern Orthodox) and Oriental Orthodox. It is usually sung three times at the end of Great Vespers during an All-Night Vigil, as well as many times in the course of daily prayer.