When things look especially dire in our lives, we sometimes need a little help turning our frown upside down. Doing just that can come in a variety of forms—a real (or virtual) hug, a simple kind word or compliment from a stranger that boosts our mood, or even reading inspiring quotes about gratitude that help us reflect on life's many blessings, especially this time of year. Because it's nice to be reminded that there is a God who loves us, walks with us, hears our prayers, and has saved us, we've gathered Bible verses about being thankful to read to yourself or share with loved ones.
The Bible is full of examples of people expressing gratitude. In fact, I would say it is a dominant theme throughout the Bible. Righteous Noah built an ark and planned for his family's safety during a horrific flood sent by God. He sacrificed animals to satisfy God's wrath (Genesis 6-7). However, in the midst of a world being destroyed around him, he was thankful that God found favor in him.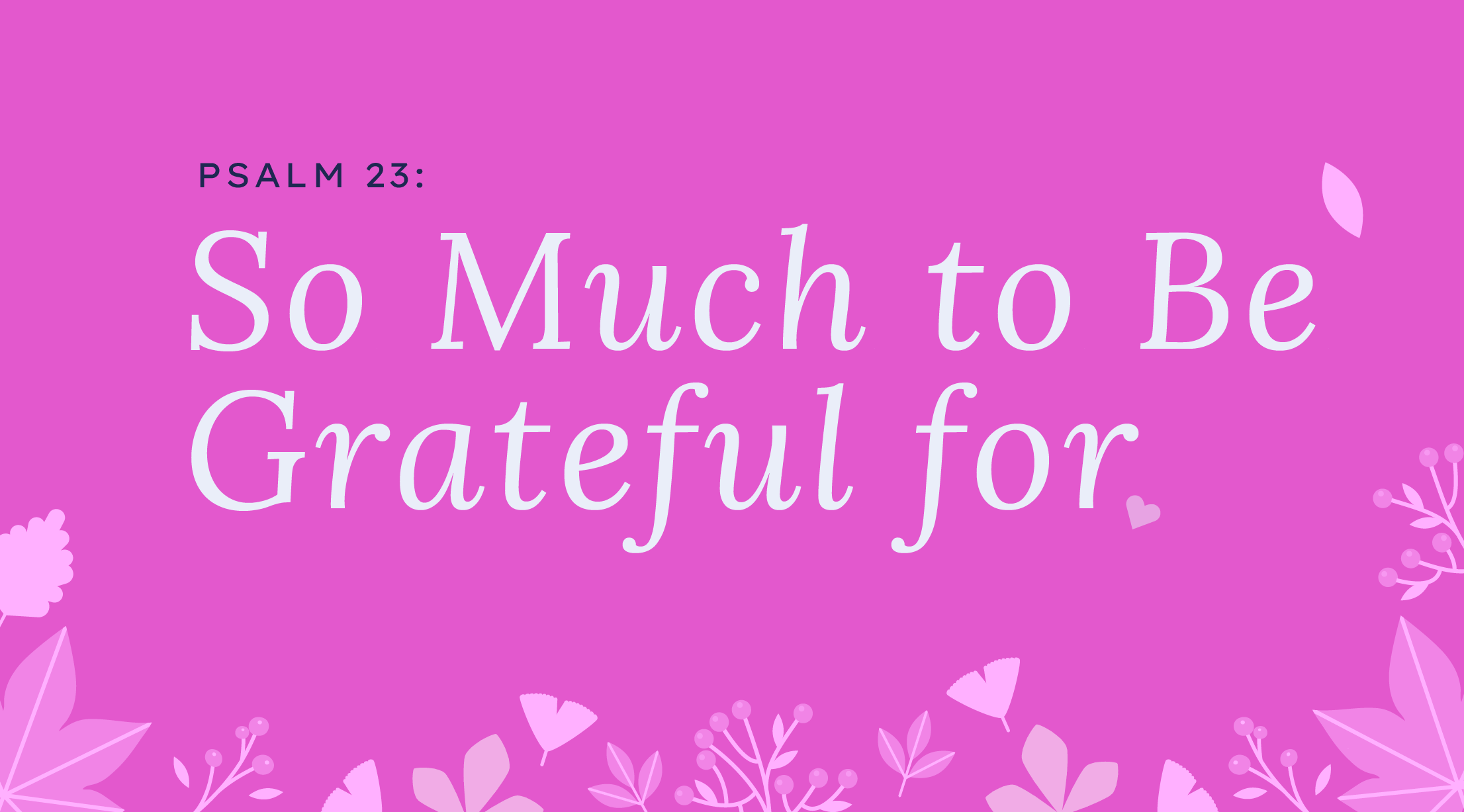 Bible Verses About Being Thankful For Blessings
1Colossians 4:2
"Devote yourselves to prayer, being watchful and thankful."
22 Corinthians 9:11
"You will be enriched in every way so that you can be generous on every occasion, and through us your generosity will result in thanksgiving to God."
31 Timothy 4:4-5
"For everything God created is good, and nothing is to be rejected if it is received with thanksgiving, because it is consecrated by the word of God and prayer."
4Psalm 106:1
"Praise the Lord. Give thanks to the Lord, for he is good; his love endures forever."
5Hebrews 12:28-29
"Therefore, since we are receiving a kingdom that cannot be shaken, let us be thankful, and so worship God acceptably with reverence and awe, for our "God is a consuming fire."
6Hebrews 13:15
"Through Jesus, therefore, let us continually offer to God a sacrifice of praise — the fruit of lips that openly profess his name."
7Psalm 107:21
"Let them give thanks to the Lord for his unfailing love and his wonderful deeds for mankind."
8Psalm 69:30
"I will praise God's name in song and glorify him with thanksgiving.
9Colossians 3:16
"Let the word of Christ dwell in you richly, teaching and admonishing one another in all wisdom, singing psalms and hymns and spiritual songs, with thankfulness in your hearts to God."
101 Chronicles 16:8
"Oh give thanks to the LORD; call upon his name; make known his deeds among the peoples!"
11Psalm 34:8
Getty Images
"Oh, taste and see that the LORD is good! Blessed is the man who takes refuge in him! "
12Psalm 86:12
"I give thanks to you, O Lord my God, with my whole heart, and I will glorify your name forever."
13Psalm 9:1-2
"I will give thanks to the LORD with my whole heart; I will recount all of your wonderful deeds. I will be glad and exult in you; I will sing praise to your name, O Most High."
14Psalms 28:7
"The LORD is my strength and my shield;
in him my heart trusts, and I am helped;
my heart exults, and with my song I give thanks to him."
15Psalms 13:5
"But I have trusted in your steadfast love;
my heart shall rejoice in your salvation."
161 Chronicles 16:35
"Say also: "Save us, O God of our salvation,
and gather and deliver us from among the nations,
that we may give thanks to your holy name,
and glory in your praise."
17Psalms 95:2
"Let us come into his presence with thanksgiving;
let us make a joyful noise to him with songs of praise!"
18Psalms 92:1-2
"It is good to give thanks to the LORD,
to sing praises to your name, O Most High;
to declare your steadfast love in the morning,
and your faithfulness by night."
19Psalms 97:12
"Rejoice in the LORD, O you righteous,
and give thanks to his holy name!"
20Psalms 100:4
"Enter his gates with thanksgiving, and his courts with praise!
Give thanks to him; bless his name!"
21Psalms 103:1
"Bless the LORD, O my soul, and all that is within me, bless his holy name!"
221 Thessalonians 5:18
"Give thanks in all circumstances; for this is the will of God in Christ Jesus for you."
23Philippians 4:6
"Do not be anxious about anything, but in everything by prayer and supplication with thanksgiving let your requests be made known to God."
24Colossians 3:17
"And whatever you do, in word or deed, do everything in the name of the Lord Jesus, giving thanks to God the Father through him."
251 Samuel 12:24
"Only fear the Lord and serve him faithfully with all your heart. For consider what great things he has done for you."
26Psalm 4:7
"You have put more joy in my heart than they have when their grain and wine abound."
27Romans 8:28
"And we know that for those who love God all things work together for good, for those who are called according to his purpose."
28Psalms 32:11
"Be glad in the LORD, and rejoice, O righteous,

The Message for Believers Today
I believe that when we use Revelation as a tool to map out the End Times, that we have missed the point of this book that we are encouraged to read.
In Revelation 1:3, Jesus tells us, "Blessed is the one who reads aloud the words of this prophecy, and blessed are those who hear it and take to heart what is written in it, because the time is near."
In the Bible, prophecy is a message from God. Sometimes about the future. But more commonly addressing current events.
So, the message from Jesus to those seven churches in the first century is the same as it is for us today. Be faithful in the face of opposition to the gospel. Do not compromise with the culture. Babylon, our culture, will fall and be destroyed.
So come out from her (Revelation 18:4) and be the distinct people that God has called us to be. A people that will inherit the renewed creation.