Dear Worship Team Leader,
I wanted to take a moment to thank you for your hard work with the praise and worship team. The last performance was absolutely incredible! It was so inspiring, and I know that everyone in attendance left feeling uplifted and ready to tackle the day.
It was clear that you put so much thought into every aspect of the performance—from the choice of songs to the choreography—and I can't tell you how grateful I am for your attention to detail and care for this ministry.
Your leadership has been invaluable, and I look forward to seeing where God takes us next!
thank you note for praise and worship team
You're thankful for the people who serve on your worship team right? They come to rehearsals. They put in work on their own time. They come early on Sunday mornings. There's a lot to thank them for. So why not let them know on Thanksgiving day?
Here's an easy way to thank your worship team this Thanksgiving: send them a text! Just a quick message can make all the difference.
In fact, here's a sample text you can send to your team on Thursday. Copy and paste this:
Hey worship team! Just wanted to let you know that I am thankful for each and every one of you and the work you put in to help people experience Jesus at (INSERT CHURCH NAME HERE). Can't wait to finish out the rest of 2018 with you! Have an awesome Thanksgiving!
Of course, feel free to make this your own. But, I'm giving you this on Monday so that you can schedule the text message in advance or just save it as a draft and hit send. When Thanksgiving comes, you won't even have to think about it.
Dear worship leaders, thank you for what you do
Words by MAY TAN
Illustrated by NICOLE CHAN
Dear worship leaders,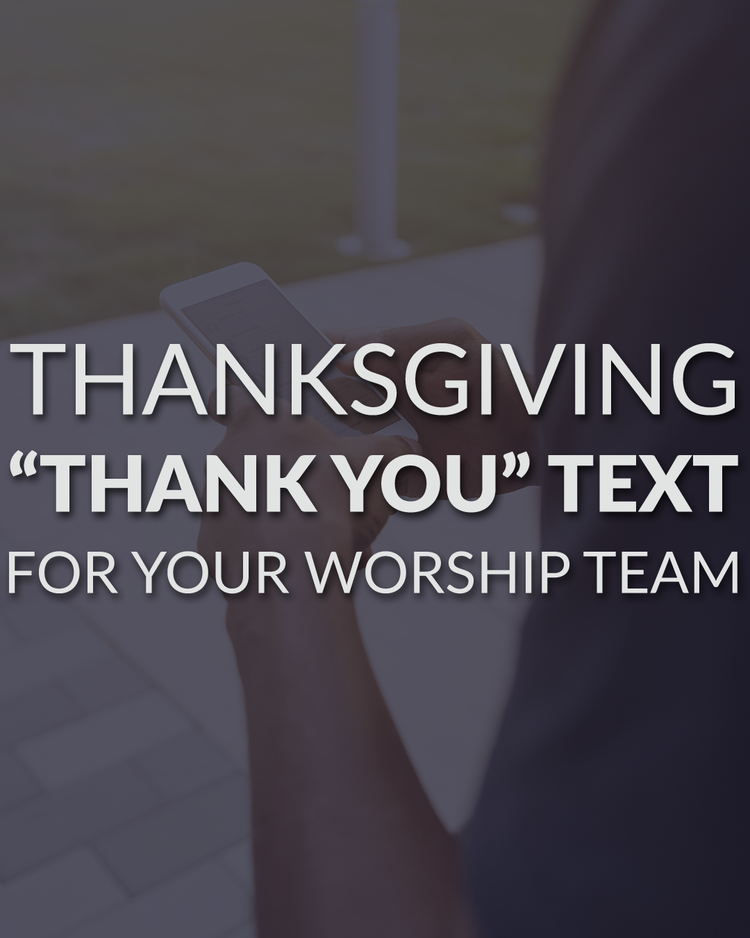 It was an extremely hot Sunday in January. I was going through a "valley" season, and I didn't even want to attend church that day. I was having trouble falling asleep all week, and when I did finally sleep, I had nightmares that would wake me up in the middle of the night. But out of obligation, I went for service in the end.
And I'm sure glad I did.
You were up in front, singing loud and bright, full of faith and proclaiming each word as if it were your own. While I stood there, not able to even mouth the words to the lyrics because it was a turmoil inside of me, you, filled with faith, lent me your faith.
I remember thinking to myself as I watched you sing: "If only I could have half the faith that she has." I prayed that little prayer and slowly, I could open my heart and mouth to sing. Proclaiming with the words of the song you led us in, declaring that God isn't done with me. That my life is not over, no matter what the world tells me, no matter what conflicts I'm battling in my life and career.
I know a breakthrough is coming, by faith I see a miracle
My God made me a promise and He won't stop now
(Won't Stop Now, Elevation Worship)
I was whispering these words; you were singing with all your heart – but little did you know, it felt like you were sharing your faith with me. I began to proclaim God's promises over me once again. And throughout the rest of the week and the month after, whenever I was having trouble sleeping or functioning during the day, I played these songs that gave me faith. I recalled how you sang and what you've imparted to me.
Two months on, singing this song in church again, the breakthrough has already come. Singing every word, remembering how back then, I couldn't even mouth the words. Now I'm singing every word filled with faith and thanksgiving on my own.
I'm living in the fulfilment of His promises, and I can't help but thank God for everything that He has brought me through. Holding onto Him has proven true. God is not a man that He should lie, no word spoken from His mouth has ever been vain (Numbers 23:19).
Worship leaders, you have no idea how important you are as a vessel for God's use. Please don't worry too much about hitting the right notes, coming in at the right beat … It makes all the difference just to see you worship your heart out to the audience of One.
You're the preacher without the pulpit and sermon notes. You're the evangelist with music and lyrics. And I thank you for serving faithfully and filled with faith each week. Practising, praying and fasting before you serve, showing up before anyone else does. Withstanding the pressure of singing in front of everyone just so you can steward the gifts God has placed in you.
Thank you for lending us your faith when we've needed it most. You have no idea how much you've done for us in our journey with Christ.