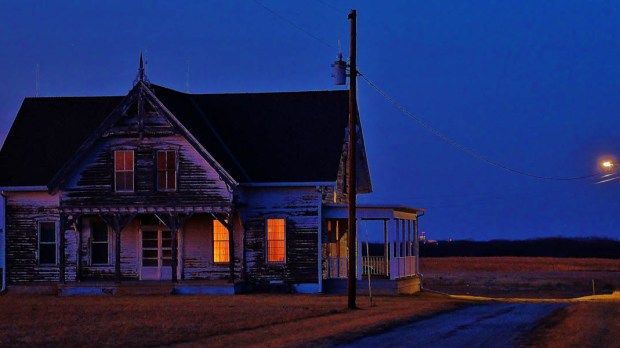 Dispel the powers of darkness that may be in this room and protect me this night …
Abeautiful and powerful prayer from Night Prayer of the Liturgy of the Hours on special solemnities:
Lord, we [or I] beg you to visit this house [room] and banish from it all the deadly power of the enemy. May your holy angels dwell here to keep us in peace, and may your blessings be upon us always. We ask this through Christ our Lord. Amen. 
A prayer written by Fr. Edward Looney, which he uses especially when he is staying in a hotel during his travels:
Almighty God, I ask you to send your angels to be with me in this place, and protect me from all assaults of the Evil One. Please forgive any wrong that has been perpetuated in this room, and grant those who offend you the grace of conversion. Dispel the powers of darkness that may be in this room and protect me this night, and those who will sleep here in the forthcoming nights. Jesus, I trust in You!
The Bible says we don't wrestle against flesh and blood (against people), but against the "cosmic powers over this present darkness, against the spiritual forces of evil" (Ephesians 6:11). Often times if something feels particularly off in one's own home, it could be a spiritual problem.
If you are feeling fearful in your own home, you can know it is not from God because the Lord does not bring a spirit of fear, but of peace.
Should Christians pray to cleanse their home? Christians should pray to cleanse their home. Christians should claim their homes as places for the Holy Spirit to dwell. They should rebuke any evil spirit in the name of Jesus.
Here are some steps you can take to cleanse your house of anything that is evil. In this blog post, I'll give you practical steps you can take to cleanse your house from anything that is not of God.
The Authority of Jesus Christ
Yes, the spiritual world is just as real as the physical world. We should be aware of spiritual battles. This does not mean we have to be fearful or try to fight these battles alone.
When dealing with the spiritual world, we have to know that because we have Jesus, we have power in his name to overcome any darkness that we may come across.
Behold, I have given you authority to tread on serpents and scorpions, and over all the power of the enemy, and nothing shall hurt you.

Luke 10:19
I personally have experienced evil spirits and from a young age could sense when something was off. I believe God gives all believers intuition when something is not from God.
It is good to be aware of evil spirits, but remember they are nothing compared to the supreme power of God.
The Bible says to not be overcome by evil, but overcome evil with good (Romans 12:21).
We should replace anything that is not true, not honorable, not just, not pure, not lovely, not commendable, and only keep and think on things that have excellence (the quality of being outstanding or extremely good) and are worthy of praise.
Pray & Ask God To Cleanse Your House
Be in communication with the Father and ask him what it is that is bothering you. Ask God to search your heart, and if there be any wicked thing in it, that the Lord would cut it off.
Maybe you are doing something the Lord disproves of and you need to be cleansed of sin yourself. God knows us better than we know our own selves.
When we are in sin, subconsciously or unconsciously, it affects us and opens doors for the enemy to work.
An example of a prayer you can say is found in Psalms 139,
Search me, O God, and know my heart. Try me and know my thoughts! And see if there be any grievous way in me, and lead me in the way everlasting!

Psalms 139:23-24
Once you ask the Lord to cleanse you, ask the Lord if there is anything in your house that is not from him. If so, ask the Lord to show you the source.
I suggest you sit down for a moment with a pen and paper and write down what you feel the Lord is saying to you. Focus on God, and let Him speak to you.
How to Cleanse Your House
If you don't feel like God is saying anything directly to you about what you need to do to cleanse your home, think about anything that might depict or agree with sin in your home.
1. Purge Your House
Think about movies or books in your home that may glorify sin. God wants you to rid of anything in your home that glorifies evil.
Free Course: How To Hear The Voice Of God
Bethany Global University's free online enrichment course will teach you everything you need to know about hearing the voice of God and discerning God's will for your life.View Course
Then look for idols that may be in your home. The Lord speaks strongly against worshiping anything that is not God, or anything that comes before God. Idols can come in many shapes and forms, it literally is anything that comes before God.
Here are a few idols to be aware of:
Phone
Computer or work
Money
TV
Food
Physical items that worship other gods (example: buddha statue)
Idolatry starts in the heart. If you find you have an idol in your home, repent to God. Then, receive forgiveness for your sin.
Examine yourselves, to see whether you are in the faith. Test yourselves. Or do you not realize this about yourselves, that Jesus Christ is in you?—unless indeed you fail to meet the test!

2 Corinthians 13:5
The Lord is never done with pruning us to better walk with him. We should always be praying and repenting of any idolatry that comes to light as the Lord shows us.
Let us then with confidence draw near to the throne of grace, that we may receive mercy and find grace to help in time of need.

Hebrews 4:16
In our homes, we should also look at objects that may come from questionable people or places. Objects can hold significance and curses. Maybe you went on a trip overseas and came back with a magnet or souvenir that you had no idea holds some kind of evil.
Be aware of objects that have evil significance
Jewelry containing symbols from other religions, including horns and crescents
Evil-looking figurines, items, or clothing even depicting skulls (skulls represent and memorialize death, and can even invite and harbor spirits of death in your home)
Items depicting symbols of other religions (like horns that depict the demon principality Baal, and crescents that depict the demonic religion of Islam) can invite the demon spirits over those religions into your home
Memories triggered by various home furnishings caused people to think about or dwell on sin
Dark or empty spaces can harbor any number of evil spirits if there were significance that led them there
You can start by going through your house room by room and asking God to show you anything you need to get rid of.
Maybe something will stick out to you and you will remember some significance in it that might lead you to get rid of that item.
Jesus Cleansing The Temple
Jesus even cleansed his own house – the temple. Jesus went into the temple in Jerusalem and starts ridding it of useless things, stopping things going on that were not honoring to God.
He saw what was going on, and fixed it. He made a scourge of cords and drove the animals and their owners out of there. He dumped out the coins of the money-changers and overturned their tables.
Jesus was angry about the things going on there and knew what should and should not be taking place in his Father's house.
Jesus had the authority to restore the temple to its proper use and gives you the authority to command in Jesus' name evil things to leave your home as well.
By allowing items that depict sin and evil, to stay in your home, you are giving permission for the evil to enter and stay.
When you get rid of the things that depict sin and evil, you are coming against those spirits. You're renouncing permission for those things to occupy your home.
2. Verbally Command Every Spirit to Leave
Now it's time to command every spirit to leave. You are not asking spirits to leave, you are commanding in the name of Jesus. As Christians, we have the authority to cast out demons in the name and power of Jesus.
A command you can say is,
In the name of Jesus, I command right now every spirit that is not of God to leave this place.
The Holy Spirit is already in every believer, you can also ask him to dwell in your entire home.
3. Verbally Ask the Holy Spirit to Come & Send Angels
Out loud ask the Holy Spirit to fill your home and protect your family. The Bible says we can ask Jesus to send his angels to protect his children.
For he will command his angels concerning you to guard you in all your ways.

Psalms 91:11
A prayer you can say is,
Dear Father, I ask that your Holy Spirit be present in this entire home. I pray that you would send angels to protect every corner of this house and guard this property from anything that is not of you that tries to enter. May this house be a place of peace in Jesus' name.
Another thing you can do is go to all the doors and windows in your home.
4. Anoint Doors & Windows with Oil
Anointing of oil is used and talked about much in Scripture- in both the Old and New Testaments.
Oil symbolism was used throughout the Old Testament.
Oil often signified prosperity, blessings, and stability.
Oil had sanctifying (cleansing) properties. Whenever someone poured oil on someone or something, they had set apart that object as a blessed object of the Lord.
Oil was used for beautification processes.
Oil was used on the head of high priests, and to sprinkle on furnishings in the Tabernacle.
We the practice of anointing throughout the new testament.
Mary anoints Jesus' feet as an act of worship.
The pouring of oil on the sick was used as a part of the healing process (Mark 6:13).
Oil symbolism was linked to the Holy Spirit's presence. When a person is anointed in the Bible, the Holy Spirit descends upon that person.
When Jesus is called "anointed" we believe it means by the Holy Spirit. 
When someone sanctifies something with oil, the meaning has often been used as set it apart for God's use. 
Other uses of oil included anointing corpses and refreshing bodies.
Some believe that God used oil as an important cultural symbol and practice to foreshadow the work of the Holy Spirit. The Israelites consecrated priests and holy objects, setting them apart for God's work, making that just the beginning.
We can also see God's provision at work through the multiple uses of oil. In Isaiah, oil was used at the head of the house.
Anoint the front door and pray that all who enter your home will "go out in joy and be led forth in peace,

Isaiah 55:12
In 1 Samuel it says how to bless a house.
And thus you shall greet him: 'Peace be to you, and peace be to your house, and peace be to all that you have.

1 Samuel 25:6
The children of Israel marked their front doors as protection from the spirit of death. The Hebrews would anoint the top and side posts of every door with blood at Passover.
The Bible doesn't command Christians to anoint their house with oil, nor does it forbid us to anoint our homes with oil.
I think one can choose for oneself if they wish to use oil to pray for protection and blessing over their house.
I do believe it can be important to pray over the doors of your home where everyone enters and leaves.
A prayer you could pray is,
Dear Father, bless this entryway in Jesus' name. May you guard all who enters and all who leave this house. May nothing enter this house that is not of you in Jesus' name and may this house be blessed and honor you.
If one wishes to, you can also go through all the doorways, windows, and closets of your home. I think the oil just symbolizes that you desire the Holy Spirit to be present here.
You can also go around your property and declare the name of the Lord over and around the four corners of your house.
5. Declare the Name of the Lord Over Your Property
If one desires to or feels God leading, one could anoint the ground at the four corners of your property and home, and pray for protection over it.
You could read aloud Psalms 91 talking about dwelling in the place of the Most High; him being your refuge and fortress.
"Surely He shall deliver you from the snare of the fowler [And] from the perilous pestilence. He shall cover you with His feathers, And under His wings, you shall take refuge; His truth [shall be your] shield and buckler.

You shall not be afraid of the terror by night, of the arrow [that] flies by day, [Nor] of the pestilence [that] walks in darkness, [Nor] of the destruction [that] lays waste at noonday. A thousand may fall at your side, And ten thousand at your right hand; it shall not come near you.

Only with your eyes shall you look, And see the reward of the wicked. Because you have made the LORD, my refuge, [Even] the Most High, your dwelling place,

No evil shall befall you, Nor shall any plague come near your dwelling; For He shall give His angels charge over you, To keep you in all your ways.

Psalms 91:3-11
The Lord is abounding in steadfast love and faithfulness, proclaim this over your property.
6. Decree the Circle of Protection Be Unbroken
Lastly, go back to where you started. If you started at the doorway of your house anointing oil or praying over it, go back to pray for the circle to be unbroken.
Go to every doorpost, window, closet door, and room you entered, and pray that in Jesus' name every command and prayer said to be unbroken for eternity.
Thank the Lord for his protection and for the Holy Spirit always being in you. Thank God for being a supreme being and taking care of you. Let the Lord give you a Spirit of gratitude. I'd suggest ending in a prayer maybe like this:
Thank you Jesus for your blessing and faithfulness. Thank you for taking care of me and my family and for sending your Son to die on the cross for me so we can be in communication with you. Thank you for being present with me and for making my home a place of peace.
Amen
You can play a worship song and praise Jesus longer focusing on his goodness. It is never good to dwell on evil spirits but to acknowledge it enough to command it to go and focus more on God's power and authority.
If you have never cleansed or prayed blessings and protection over your home before, it may seem tedious, but prayer in Jesus' name has more power than we can imagine.
If you still feel evil spirits in your home, you need to reach out to your pastor and ask for help.
We have power in the name of Jesus. We have the power of the Holy Spirit to command evil spirits to leave.