Angelic protection begins with a mind attuned to spiritual truths. For the mind to be attuned, the heart must be vibrant, which means joy and happiness. Is your heart vibrant? Are you happy? If you answer no to either of these questions, then it may simply mean you are in need of prayer for angelic protection. Read more on angel prayers for miracles in this article.
Life is scary, let's face it. Throughout the day, we strive to ensure the emotional and physical security of our families, friends, and even ourselves. It's human nature to want to shield those we care about from harm. And for those who put their faith in God, there's a little something extra to help keep the family safe. When we read a prayer asking God to keep us safe, we can take comfort in the knowledge that our prayers have not gone unheard. God is always looking out for us, even if we don't feel His presence.
You should always remember the potential of prayer. Whenever we pray, God provides exactly what we need. Know that the Lord hears your prayers for the safety of yourself, your loved ones, your property, and/or the entire world, and that he will respond in his own good time. If you're looking for a prayer that will give you the strength you need every day, one that will remind you that the Lord is watching over you and keep your worries at bay, then consider praying for protection. Try reciting one of these prayers before bed or reading some Bible verses that talk about God protecting his people. Know that God will watch over you and your loved ones whether good or bad times come your way. In this article you'll also read more on angelic protection scriptures.
Prayer For Angelic Protection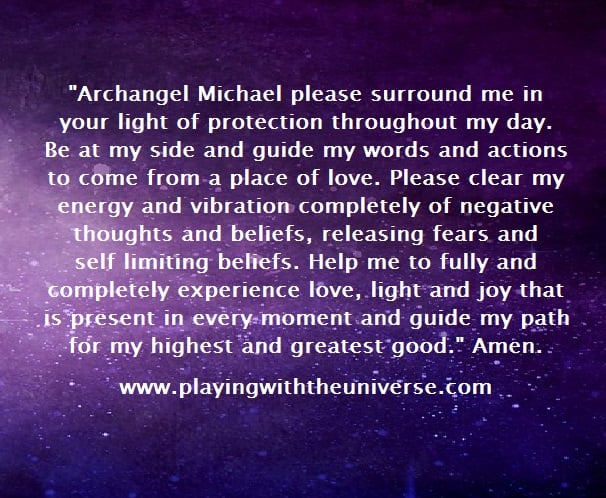 Dear angels,
I would like to ask for your protection today. I know that you are always with me, but I also want to be sure that you are watching over me in particular.
Please help me stay safe and sound as I go about my day. Please hold up a shield of protection around me so that no harm can come to my body or my mind. Please guide my actions so that they are aligned with the highest good for all concerned. Please help me to see clearly and make wise choices today, so that I may stay on the path of goodness and truth. And please help me to remember that I am always loved even when things seem tough or scary, because you are always there with me through it all!
Guardian angels,
We offer you our gratitude and appreciation for the work you do. We ask that you watch over us and protect us from harm, as well as guide us and help us through the trials of life. We know that you are always with us, protecting and guiding us. Please continue to be our guardian angels, helping us to overcome all obstacles in our lives.
Amen
Dear angels,
Please protect me as I travel today. Please keep me safe from any mishaps and keep my mind clear of worry. Thank you for being there for me when I need you most. Amen
Angel Prayers For Miracles
I call upon the angels and archangels to protect me from all harm and danger.
I ask you to surround me with your wings of love, and fill my heart with peace.
I thank you for drawing near to me, and for guiding my thoughts and actions in a positive direction.
Please watch over me and help me to walk safely through life's challenges.
I call upon the angels of the seven planets, the twelve signs of the zodiac, and all their associated spirits to surround me with their protection. I call upon the angelic guardians of the four elements: fire, earth, air, and water. I call upon the angels of each chakra: root, sacral, solar plexus, heart and throat. I call upon St. Michael and all his legions of angels to surround me with their protection against all harm and evil.
Angelic Protection Scriptures
I ask for your protection from all harm on this day. I ask that you keep me safe from all accidents or illness, especially those caused by others through accident or intent. Help me feel safe and secure during my travels today so that I may get where I need to go without fear or anxiety getting in my way.
Help me not be afraid if someone yells at me or makes a sudden move towards me; let me see these acts as ways for them to work through their own fears rather than as threats against me personally. Help me remember that it is not only possible but also essential that we learn how to care for one another through our fears rather than letting them control us—especially when we
Dear Lord, please watch over me during my travels and keep me safe from harm. Thank you for the miracles you have performed in my life, and for the blessings you have bestowed upon me. I ask that you allow me to continue to grow in your grace and knowledge, that I may be a better servant of your will. Please bless those around me with health, happiness, and prosperity. Amen
Dear angels, please watch over my family tonight. I ask that you help us rest peacefully, and protect us from all harm. Please keep us safe as we travel throughout the night and into the morning. Please keep our children safe and loved, as they are our most precious gift.
Thank you for your guidance and protection, dear angels.