Prayer for an anxious heart, Lord God, who knows our struggles and longings. Help us to live each day in your presence and our hearts at rest in you. Enable us to seek you when we are troubled by anxiety; soothe our fears when we are uncertain or confused. Teach us to walk the path of trust and hope, knowing that you will be with us all the days of your life -author, unknown
Essentially, it's giving God control of everything good and bad in our lives, including our desires, needs, suffering, and grief, and doing so while being grateful.
The more we give gratitude to God no matter what, the more we realize we need Him to guide us through this life if we want to live abundantly. As stated by John 15:5, we are aware of our complete dependence on God.
God's methods are better, and His plan and purpose for our lives are wonderful, and we come to know this as our connection with Him deepens and we see His hand at work in our lives.To grow closer to God, it's necessary to talk to Him frequently. In the same way that you could share your joys and worries with your best buddy over lunch. However, we can first turn to God with all of our concerns.
Prayer For An Anxious Heart
Loving God, please grant me peace of mind and calm my troubled heart. My soul is like a turbulent sea. I can't seem to find my balance so I stumble and worry constantly. Give me the strength and clarity of mind to find my purpose and walk the path you've laid out for me.
Paul tells the church in Thessalonica that we can grow in our relationship with the Lord if we pray and come to Him with a willing heart.
Understanding Whom we are praying to is the first step toward a deeper relationship with our God. God is a kind and compassionate Father who knows us inside and out, and though we can have a close personal relationship with Him, we must never forget that He is worthy of the highest awe and reverence.
By celebrating God for who He is, we display our awe and reverence for Him (Deuteronomy 13:4). We can use song or acclaim to do this. We can accomplish this by appreciating the natural beauty around us or by taking pleasure in the many gifts God has given us.
Praising God is the gateway to a fruitful prayer life. Don't miss out on the next breathtaking sunset. Take a time to appreciate the fact that God brought you together with a loved one.
Give God the credit when you accomplish something. Eventually, you will be able to find cause for celebration in the Lord, regardless of your current circumstances, since He has been faithful throughout the good times and the bad.
The gospels show us how God's plan came to fruition when we met Jesus and learned about His life, His numerous acts of kindness, and His final sacrifice on the cross. That calls for a moment of rest and contemplation, during which we might offer God our most heartfelt gratitude and praise.
Prayer For Anxiety, Worry And Fear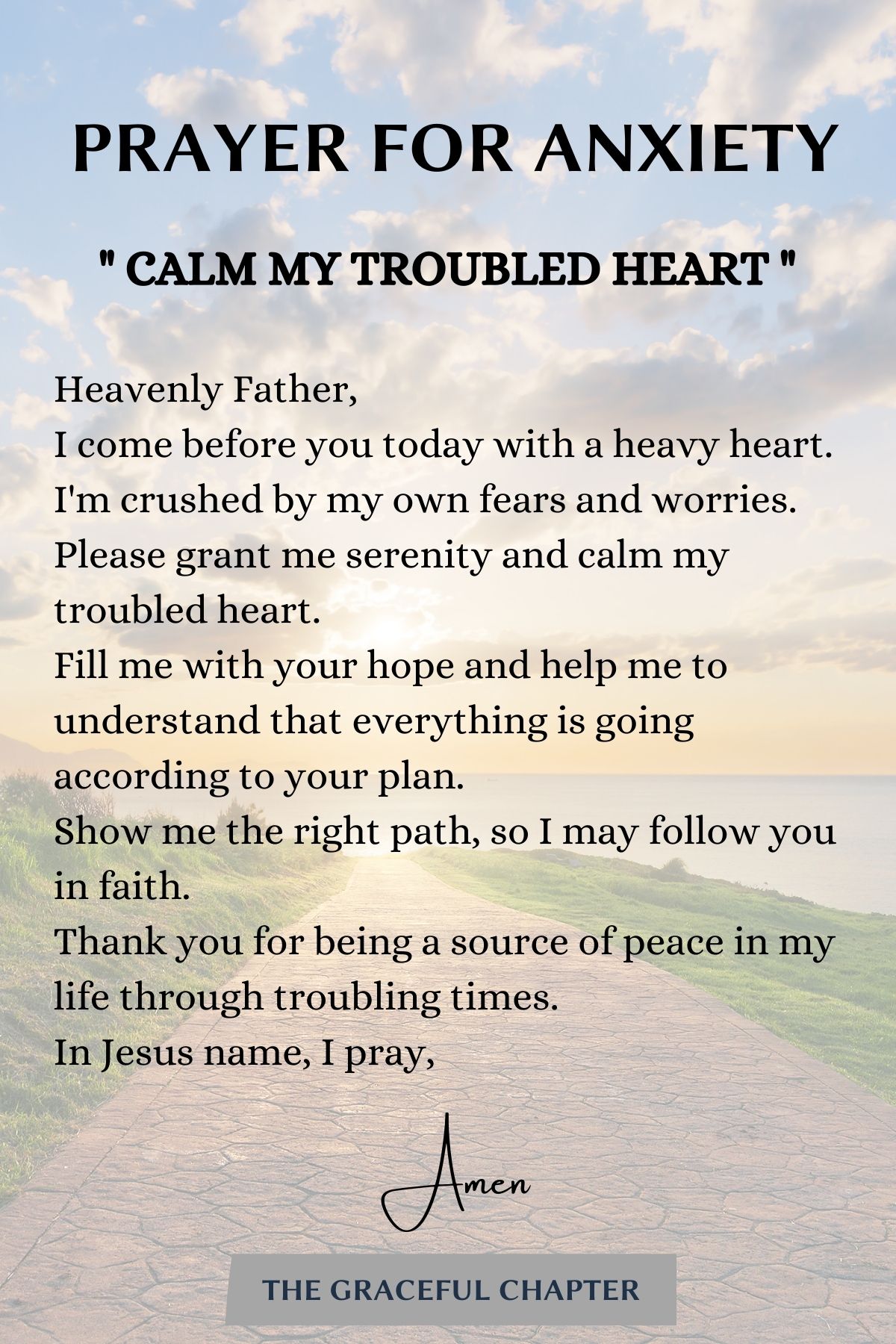 I'm so sorry for the anxiety I've been feeling lately. It's not your fault; it's just that life is getting so hard, and I'm struggling to keep up.
Dear Jesus,
I know that you're with me every step of the way, even when I feel like I'm all alone. Please help me find peace in my heart and mind as I go through this challenging time.
Thank you for never leaving me behind—and thank you for always being there when I need you most!
Father,
I come before you today with an anxious heart. I know that you love me and want only good things for me, but I feel lost and afraid. Please help me to trust in your love for me and to remember that you are always with me. Thank you for being here with me today.
Dear God,
I am overwhelmed by anxiety. I'm afraid of everything: of what people think about me, of the future, of being alone and unloved. I'm afraid of losing my job or having an accident or getting sick. I'm afraid of being poor and alone.
I don't want to be this way anymore—I want to be free from worry and fear! Please help me to see the world in a different light—to see it as a place where all things are possible through you—and to know that no matter what happens, you will always be with me and guide me through it.
Thank you for your love, Lord Jesus Christ.
Short Prayer For An Anxious Heart
Dear God,
I need your help. I'm trying to be the best person I can be, but it's so hard. I struggle with anxiety, and sometimes it feels like I'm trapped in a cage of fear and panic. Please help me to believe that you're with me, even when it seems like nothing is going right. Help me to trust in your love for me and for others, even when it's hard to do so. Peace be with you today!
Dear God,
I am so anxious right now. I feel like I can't breathe and my heart is racing. Please help me to feel safe and calm. Please help me to be able to breathe again, and let this anxiety go away.
Lord, I know that you watch over me and are aware of my every thought. I am overwhelmed by anxiety and fear, but I know that you will help me find comfort and peace. Please guide me so that I can overcome these fears and live a life full of joy. In your name, I pray Amen.
God,
I know that you are with me, even in the darkest moments. You are my anchor, and I trust that your plan for me is good.
But sometimes it's hard to remember that when the world has turned against me. When I feel like everyone is looking at me and judging me, it's hard to see any reason to go on. But I know that you will never abandon me, even when it seems like you have. You have promised to always be there for me, and I trust that promise more than anything else in this world.
So please help me to remember that even when things get dark and hard, you are still here with me. And even though people may choose not to believe in you or stand by my side during these times of trial, they don't have to—because they already have everything they need right now: peace and rest. Amen