Are you looking for church service ideas? Are you worried that your church service may not flow well? I know exactly how you feel. I remember sitting in my first pastor's office, being overwhelmed with all the responsibilities of the ministry. I felt like I was sinking underwater in a lake. To make it worse, everyone else around me seemed to know what they were doing. Since that time, I have written down a list of helpful tips and tricks on how to deliver an amazing service while still following God's Word. With this short list, you can lead your church with confidence and ease.
Are you looking for Independence Day church service ideas to help your congregation celebrate the holiday?
We've got you covered!
Whether you're hosting a potluck or planning a special service, we have suggestions for each stage of the celebration.
Hey, it's me. I'm here to help you get a jump on your next church service.
If you've been asked to organize the church service for Independence Day, you may be feeling overwhelmed. That's why I'm here: to give you some ideas for how to make this special day stand out and be memorable for everyone in attendance.
Let's start with the basics: what does Independence Day mean in the context of your religious tradition? In other words, what is it that makes your congregation unique? Is there a particular message or theme that drives your congregation forward every day? If so, use that as the jumping off point for your church service.
Next, consider using music as part of your service. Music is powerful; it can bring us together and make us feel connected—even when we're thousands of miles apart! It's one way we can express our faith and prayer in a tangible way while still honoring our traditions. If music isn't part of your tradition (or if it's not a big part of yours), consider incorporating some songs into your service anyway—even if it means listening online beforehand so you know what songs are being sung during worship services at other churches around the country today!
This time of year is a perfect time to reflect on the freedoms we enjoy as Americans. In that spirit, here are some church service ideas for your Independence Day celebration:
Have a picnic after the service, complete with hot dogs, potato salad, and good old-fashioned apple pie.
Dress children in red, white, and blue clothing and have them lead the congregation in a rendition of "America the Beautiful." The song's lyrics are a great reminder of how blessed we are as Americans to be able to worship freely.
Have everyone write down what freedom means to them on index cards or slips of paper. Then gather all of these cards together in a basket and read through them during the sermon or while singing hymns like "My Country 'Tis of Thee." This will help keep everyone focused on why they're there and what they're celebrating!
Right here on Churchgists, you are privy to a litany of relevant information on independence day sermon ideas, independence day spiritual message, independent sermon, and so much more. Take out time to visit our Website for more information on similar topics.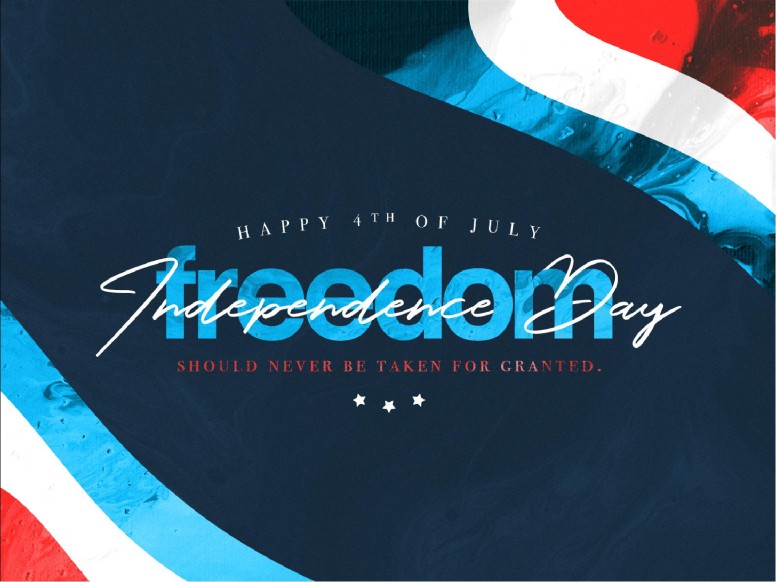 independence day sermon ideas
Here are some ideas for your church service today.
Sing "God Bless America" with the congregation.
Have the children do a patriotic craft, like paper flags or red, white, and blue pinwheels (make sure you have plenty of glue).
Have a running race between two boys or girls who are members of the youth group (or if you don't have a youth group, two adults). The winner gets to choose which song to sing at the end of the service!
Independence day is a time to celebrate the freedom, courage and strength of the American people. This day is also marked by fireworks and parades.
Church services are held on this day to commemorate the country's independence. The service begins with a prayer, followed by patriotic songs and prayers. The sermon focuses on the meaning of freedom and how it helps us live our lives better.
Have you ever been to a church service that really blew your mind? We're not talking about the typical Sunday service—we're talking about the kind of experience that makes you feel like you're at the epicenter of a spiritual earthquake.
Maybe it's because of an amazing sermon, or maybe it's because of something else entirely. Either way, we've got some ideas for how to make your next church service unforgettable.
Here are some ideas for your next church service:
1) Hire a choir!
2) Use visuals!
3) Offer a community meal!
4) Use music as a tool for worship!
No matter your faith or beliefs, it's important to honor the people who came before us and made this country what it is today.
Independence Day is a day to celebrate the freedom we enjoy in America. But it can also be a day to reflect on the sacrifices that were made by our ancestors so we could live in a country where we are free to worship, speak, and vote as we choose.
This year, why not take time out of your Independence Day festivities to reflect on those who came before us? Here are some ideas for ways you can honor the people who helped build America:
Have a service at sunrise or sunset on July 4th to honor those who sacrificed their lives for the sake of freedom
Get together with friends and family members who have served in the military and thank them for their service
Go to an event honoring veterans (like a parade)
Give back by volunteering at an organization that helps veterans, such as The Wounded Warrior Project
Independence day church service ideas
What should a church service look like?
There is no right or wrong way to lead a church service. As long as the structure is meaningful and relevant to your congregation, anything goes!
How does one go about planning a church service? First, consider what the purpose of a church service might be. Is it for worship? To get people in touch with their spirituality? To provide community support? Or perhaps to provide information on how others can help themselves (through food drives, volunteering opportunities, etc.)? Whatever your answer may be, keep it in mind when creating your plan for the day.
How do you lead a church service?
You may be familiar with the outline for a church service. It's often called the order of service, or simply, "the order."
The order is a tool used by pastors and musicians to organize their thoughts before leading a church service. The order starts with welcoming everyone, then moves through prayers, singing songs, giving announcements and other announcements like birthdays and anniversaries, offering communion (or not), praying again (or not), closing hymns and benediction prayer before dismissing those who are leaving.
You can get an idea of what elements should be included in your order by looking at this sample template:
What does a church service consist of?
As you become more involved in the church and its activities, you may find yourself called on to help lead a service. The first step is to understand what goes into a service. In general, there are several parts that make up a typical worship service.
Greetings: A greeting may include singing or saying "You are welcome here" as people arrive.
Opening Prayer: The minister leads the congregation in prayer, either silent or spoken aloud. It is offered with our hands raised toward God and often begins with words such as "Father," "God" or "Lord." Hymn or Song: This could be an original song written for the occasion or an old favorite hymn from your childhood days at Sunday School.. Scripture Reading: At this point someone reads from one of three books of scripture (Old Testament, New Testament and Psalms). Sermon: The sermon is short message delivered by a speaker following the reading of scripture.. Offering: This is when members give money to support their local church activities (building maintenance/upkeep) or missions abroad.. Closing Prayer: An invocation which includes asking God's blessing upon those present and thanking Him for His gift of salvation through Jesus Christ.. Benediction Like an opening prayer this usually ends with another sung piece called postlude
How do you preach without notes?
The best way to preach without notes is by practicing. The more you practice, the more comfortable you'll be in front of your congregation. And if things go wrong—which they inevitably will—you'll have a better chance of saving face.
To get started, create an outline for each sermon. Your outline should be flexible and adaptable; it doesn't need to be written in stone. Once you've got some ideas down on paper, read through them one last time before preaching so that you don't miss any steps or information while speaking in front of an audience. Then just relax! It's okay if things don't come out exactly as planned—just make sure not to forget anything important!
When preachers talk about how they prepare their sermons, they often mention how much prayer goes into their workmanship: "I pray over my text every day until I feel like I can hear God's voice through it." Prayer is an important part of preaching because there's nothing worse than giving a sermon where no one is listening; at least this way there are some good vibes coming from above (or below?).
Why is it important to go to church?
There are many reasons to go to church. Here are some of the most important:
To worship God
To learn God's word
To fellowship with other believers
To serve God, and others, through the church
To be part of the community, and to encourage others
independent sermon
What is a good sermon topic?
A good sermon topic is one that is relevant to the audience, interesting to the audience and important to the audience.
The first thing you need to do when choosing a good sermon topic is consider what your audience will want and need from you. This will include what they're looking for in particular, as well as how much time they're willing to give up out of their day.
Once you have a general idea of what kind of topics your listeners might like, take some time to think about their lives outside of church. What are they interested in? What kind of information do they need? How can you use these things as inspiration for topics?
Celebrate Independence Day in meaningful ways.
In the United States, Independence Day is one of the most patriotic holidays. It's also an opportunity to celebrate our nation's history, principles and values. If you are looking for ways to commemorate this important day in church this year, here are some ideas:
Read from Scripture about the freedom we have in Christ and how it can be used for good in our lives and others' lives.
Sing songs that celebrate God's gift of freedom (e.g., "This Land Is Your Land," "God Bless America"), including hymns like "The Battle Hymn of The Republic" or newer worship songs like Matt Maher's "Lord Of All Nations."
Pray for those who serve our country both at home and abroad—pastors who lead churches around the world as well as soldiers who defend our freedom with their lives on a daily basis—and pray that they would know how much they are loved by God!