Are you looking for a nice food item to cook on a Sunday? Someone who is always out and about, either travelling or still going to school? Perhaps you're one of those who just wants to spend some time with your family. We've got you covered! Here's a list of mouth-watering dishes you can make and enjoy as a family, in no particular order. So sit back, relax, and scroll.
Are you thinking of giving your visitors something nice today but still have not decided what to cook yet? Then this article is definitely going to assist you greatly. I will be showing you a lot of Nigerian meals.
These meals are very rich, attractive and also contains a lot of delicious ingredients that will nourish your body and make you look healthy. Your children will also enjoy these well prepared meals and they will definitely compliment you after eating.
There is a popular saying that the right way to a man's heart is his stomach, family members do not joke with nutritious food at all. They are always proud of the women especially the ones that know how to cook very well.
 So, if your husband is expecting some of his friends tomorrow, he will be very happy when his colleagues are served attractive and well prepared dishes like this.  
Right here on Churchgists, you are privy to a litany of relevant information on nigerian food, easy nigerian dinner ideas, low budget nigerian meals, and so much more. Take out time to visit our Website for more information on similar topics.
Food to cook on a Sunday in Nigeria
nigerian food
easy nigerian dinner ideas
1 Fufu and Egusi Soup
When fufu is combined with egusi soup, it serves as dinner to millions of Nigerians. Egusi soup is the most popular soup in Nigeria and unarguably loved by every Nigerian.
2. Jollof Rice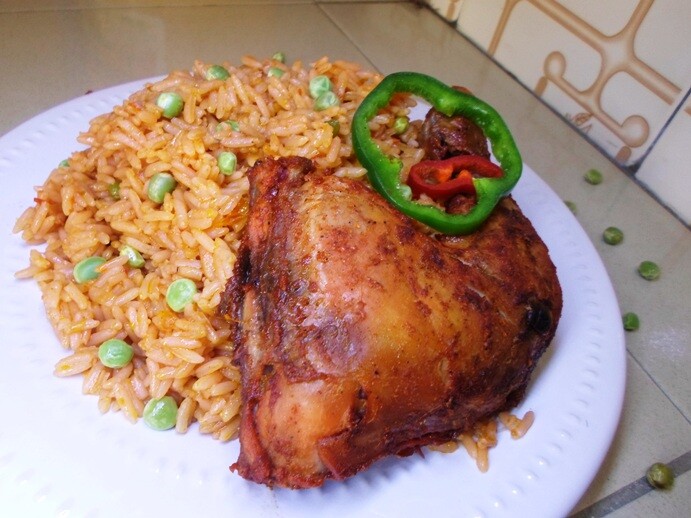 Several recipes for jollof rice exist across different Nigerian ethnic groups. jollof rice is one of the perfect Nigerian dinner ideas.
We serve jollof rice as dinner, lunch or even breakfast in Nigeria. it is also the most popular food in Nigeria.
You can serve with vegetable salads, beef or chicken.
3. White rice and Sauce or stew
This is boiled white rice that is served with vegetable sauce. Alternatively, you could serve white rice with Banga stew or tomato stew.
This is a very popular dinner idea in Nigeria.
4. Edikaikong and Swallow
Edikaikong soup is the most popular vegetable soup in Nigeria. This is a healthy Nigerian dinner idea. You could serve with eba or fufu instead.
I make this soup at least twice every month.
5. Porridge Yam
Porridge yam is dinner to millions of Nigerians. You could add vegetables if you like.
We make porridge yam and serve as night food in Nigeria all the time.