There are people who hurt you and there are people who use you. Are you able to tell the difference? In this article, I will help you learn to distinguish between those two types of people so that you can better protect yourself from those who only want to take advantage of you. This article discusses bible verse about being hurt by someone you love.
Many people have faced hurtful words or actions at one time or another, but sometimes it can feel like a fresh wound as we try to put our lives back together. A broken heart, an unsupportive comment or someone who doesn't understand what we've been through can all cause pain when some of the things we need most are to be seen and heard. But God wants to comfort and heal our hearts!
Have you ever felt tempted to hate someone? Have you ever been hurt by someone? These Bible verses about people who hurt you can help you feel peace in the midst of challenging relationships. This article also tell us God Will Deal With Those Who Hurt You.
Bible Verses About People Who Hurt You
Throughout Scripture Christians are told to love others. Love does no harm to its neighbor. We are not to hurt others physically or emotionally. Words do hurt people. Think before you say something to hurt someone's feelings. Not only words said directly to the person, but words said when that person is not around.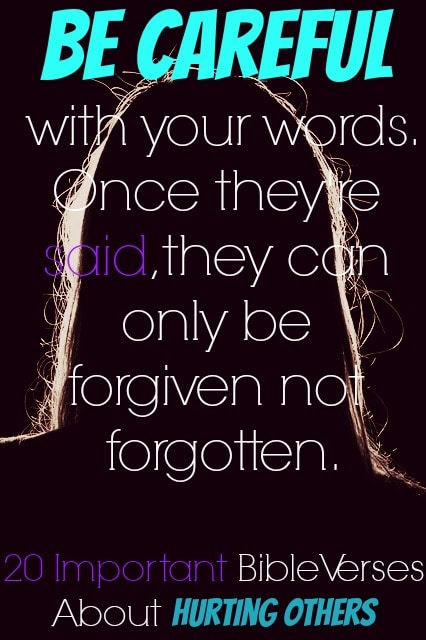 Slander, gossip, lying, etc. is all evil and Christians should have nothing to do with these.
Even if someone hurts us we are to be imitators of Christ and pay no one back for what they have done. Always be willing to apologize to others.
Forgive just like God forgave you. Put others before yourself and be careful what comes out your mouth. Do what leads to peace and do all things for the glory of God.
As believers we must be considerate of others. We should never mistreat others nor cause believers to stumble.
We should always check to see how will our actions help someone in need. We should always check to see if our decisions in life will hurt others.
Quotes
"Be careful with your words. Once they're said, they can only be forgiven not forgotten."
"Words scar more than you think."
"The tongue has no bones, but is strong enough to break a heart."
Live peaceably
1. Romans 12:17 Do not repay anyone evil for evil. Be careful to do what is right in the eyes of everyone. If it is possible, as far as it depends on you, live at peace with everyone.
2. Romans 14:19 Let us therefore follow after the things which make for peace, and things wherewith one may edify another.
3. Psalm 34:14 Turn away from evil and do good. Search for peace, and work to maintain it.
4. Hebrews 12:14 Follow peace with all men, and holiness, without which no man shall see the Lord.
What does the Bible say?
5. Ephesians 4:30-32 Do not grieve the Holy Spirit, by whom you were marked with a seal for the day of redemption. Let all bitterness, wrath, anger, quarreling, and slander be put away from you, along with all hatred. And be kind to one another, compassionate, forgiving one another just as God has forgiven you in the Messiah.
6. Leviticus 19:15-16 Do not twist justice in legal matters by favoring the poor or being partial to the rich and powerful. Always judge people fairly. Do not spread slanderous gossip among your people. Do not stand idly by when your neighbor's life is threatened. I am the LORD.
Repay no evil
7. 1 Peter 3:9 Do not repay evil for evil or reviling for reviling, but on the contrary, bless, for to this you were called, that you may obtain a blessing.
8. Romans 12:17 Do not repay anyone evil for evil. Be careful to do what is right in the eyes of everyone.
Love
9. Romans 13:10 Love does no harm to a neighbor. Therefore love is the fulfillment of the law.
10. 1 Corinthians 13:4-7 Love is patient, love is kind. It does not envy, it does not boast, it is not proud. It does not dishonor others, it is not self-seeking, it is not easily angered, it keeps no record of wrongs. Love does not delight in evil but rejoices with the truth. It always protects, always trusts, always hopes, always perseveres.
11. Ephesians 5:1-2 Therefore be imitators of God, as beloved children. And walk in love, as Christ loved us and gave himself up for us, a fragrant offering and sacrifice to God.
Reminders
12. Titus 3:2 to slander no one, to avoid fighting, and to be kind, always showing gentleness to all people.
13. 1 Corinthians 10:31 So, whether you eat or drink, or whatever you do, do all to the glory of God.
14. Ephesians 4:27 and give no opportunity to the devil.
15. Philippians 2:3 Do nothing out of rivalry or conceit, but in humility consider others as more important than yourselves.
16. Proverbs 18:21 Death and life are in the power of the tongue: and they that love it shall eat the fruit thereof.
Golden rule
17. Matthew 7:12 In everything, treat others as you would want them to treat you, for this fulfills the law and the prophets.
18. Luke 6:31 And as ye would that men should do to you, do ye also to them likewise.
Bible Verse About Being Hurt By Someone You Love
It's easy to find Bible verses about love. But what about when you're hurt by your husband? You may not feel like love is even a possibility. These Bible verses will help you find hope and healing.
Ephesians 4:32 – Forgive, just as God forgave you.
Be kind and helpful to one another, tender-hearted [compassionate, understanding], forgiving one another [readily and freely], just as God in Christ also forgave you.

~ Ephesians 4:32 (AMP)
This verse contains three brief commands from Paul. First and foremost, he encourages his readers to be kind. The emphasis is not solely on general usefulness. Paul is explicitly considering compassion for the congregation and other believers.
Second, Paul uses the term "compassionate" or "tenderhearted." His use of it here centers on the concept of expressing sympathy. Believers should be recognized for their kindness rather than their harshness.
Finally, Paul instructs his readers to forgive one another. This admonition is accompanied by an explanation, which refers to Christ's forgiveness of Christians (Matthew 18:21–35). The Christian faith is distinguished by its forgiveness.
1 Corinthians 7:2 – Glorify God in your body.
But because there is so much sexual immorality, each man should have his own wife, and each woman should have her own husband.

~ 1 Corinthians 7:2 (NLT)
After much debate in the church about whether or not husbands should have sex with their wives, According to Paul's writing, every husband and wife should "have" each other.
This is another modest sexual reference that debunks the previous claim. The assumption that Christians who are married should not have sex is expressly challenged by Paul. Why? The temptation to engage in sexual immorality is too great, and the consequences are too severe (1 Corinthians 6:12–20).
To put it another way, Paul's point, in this case, is that individuals who are already married should have sex with their spouse in order to prevent sexual sin. This remark has nothing to do with marriage in general.
Matthew 5:28 – Hurt by Adultery?
But I say to you that everyone who looks at a woman with lustful intent has already committed adultery with her in his heart.-

Matthew 5:28 (ESV)
Jesus forbade adultery in this verse. He demonstrated this by demonstrating that simply avoiding physical acts is insufficient to satisfy the intent behind God's command. God desires that His people be pure both in their hearts and in their actions.
This is part of a recurring theme in Jesus' teaching: attitudes and thoughts can be just as sinful as actions and speech.
The connection Christ makes here is striking, and it would have come as a surprise to His original audience. His claim is that lustful intent is a sin in and of itself, an act of adultery in the heart.
Legalists of the time might have argued that lust and imagination were acceptable as long as they didn't lead to actual sex. However, Jesus defines lustful intent as a sin just as serious as adultery.
Proverbs 22:10 – You can get rid of a lot of problems by casting out the scorner
Cast out the scorner, and contention shall go out; yea, strife and reproach shall cease.

~ Proverbs 22:10
Disagreement and bad blood can arise not from the facts of a situation, but from a person with a bad attitude who causes trouble.
According to this proverb, "what an institution sometimes needs is not reforms, but the expulsion of a member." It's amazing what one scorner can do to create division and discord. So, snub the scorner.
The New Testament instructs us to remove the leaven because "a little leaven will leaven the whole lump" ( Galatians 5:9 ). So get rid of that leaven.
The same thing applies here. You can get rid of a lot of problems by casting out the scorner. The squabbles and squabbles will come to an end.
1 Corinthians 10:13 – God will make a way.
No temptation has overtaken you except what is common to mankind. And God is faithful; he will not let you be tempted beyond what you can bear. But when you are tempted, he will also provide a way out so that you can endure it.-1 Corinthians 10:13
Temptation is an inevitable part of life. Our desire to sin can feel far more powerful than our desire to do what is right in God's eyes. What if we are unable to resist the temptation?
In response to such fear, the Bible provides reassurance that overcoming any particular temptation is entirely possible. This is true for all Christians.
First, Paul emphasizes that none of us are uniquely tempted by sin—that is, our desire to sin, whatever unique form it takes for us, is common and ordinary. It has been witnessed by countless others throughout the generations.
Furthermore, our God is still on our side. He cherishes us dearly. He is not waiting for us to fail; rather, He is ready to assist us.
God Will Deal With Those Who Hurt You
Seeing as how repaying tribulation to those who trouble you is a righteous thing in God's eyes.
Thessalonians 2:6
Once, we had an employee who we "thought" was the best of the best. In one of my meetings, he shared with the group his conviction that God was directing him to take on a leadership role in the ministry. Knowing he had been in the ministry for some time was helpful, but I didn't know him well enough to be confident in any claims I read about him. According to my research, he would be a great asset to our team. We had an immediate need for a man with his abilities, so we brought him on as an entry-level employee to see how he interacted with others in the workplace.
My executive team has been impressed with this man's work ethic and punctuality for several years. He worked hard, was always willing to learn more, and proved his loyalty in many ways. With an opening for an office manager in that country, we thought it only fair to promote this man. Troubles only arose after he was given control of the funds. Small discrepancies in the beginning led us to believe they were honest mistakes. But as time went on, it became clear that there was a major issue. This guy was engaging in some seriously sneaky monetary theft.
*[Start reading here if you landed on this page from an email.]
When I found out that the man I loved was secretly stealing from us, I flew hundreds of miles just to give him a chance to explain himself. A flash of rage erupted in his eyes as I walked into our ministry office to meet with him and he realized we knew about what he had been doing.
The next thing I knew, I was staring at a man I had never met before! He shouted and yelled at us to leave his office, which was also our office. It served as our ministry's headquarters for the country. And when I pointed out that this was our office and he had no authority to make us leave, he exclaimed, "So you think this is your office? Whose signature appears on the contract? I did! Affirmative; I put my name to it. It's in my name, so by definition it's my workplace! So, I'm giving you a stern warning: leave now or I'll have the police haul you in for trespassing.
He completely stunned my team and me with his actions. We had known him for quite some time, so I had assumed that he would come clean and beg for mercy. In addition to solving the problem, I wanted to put myself in a position to help this man recover. Yet all of a sudden, the mask he had worn for so long slipped away, revealing a face flushed with rage. With what could only be described as demon-like gleaming in his eyes, he screamed at the top of his lungs. He was an unhinged, completely irrational ball of rage. While screaming, he got so close to me that I was afraid his nose would make contact with mine.
But I kept my cool, and I told the man that I wasn't going anywhere until he told me the truth about the inconsistencies we had discovered, no matter how loud he got. As soon as I turned around, he was dialing 911 to have us forcibly removed from our workplace. My group and I left before things got any worse. I never saw that man again after that.
I turned around to take one last look at the building where we had done ministry for so many years. The name of our organization was prominently displayed on the door for all who came to see us. Hidden behind those walls were nearly 100,000 letters sent to Denise and me from our TV audience. Over two hundred and fifty thousand copies of my books were stacked on shelves and in the basement because they were given away in response to letters from viewers of our TV show. Our ministry had invested in office equipment like desks, computers, typewriters, copy machines, fax machines, and tape duplicators for its 80 full-time employees to use in their work.
The next day, we found out that not only had this man stolen from our ministry, but he had also legally changed the registration of all of our property to his own. This meant that we could make no claims to the property in that workplace. Even the ministerial car was in his name. It was the smoothest, most expertly executed theft job I'd ever seen.
One of my superiors recommended that I sue the guy for returning some of our property. But I knew that such a move, given our prominence in the region, would be reported on front pages and discussed from coast to coast. It was clear to me that this news would "load the gun" of every atheist and Communist who hated the Gospel in that former Communist nation where faith had historically been persecuted. In the eyes of the public, this would be the "war of the preachers," and it would have devastating effects on God's work in the country.
What we had lost was nothing compared to the reputation of the Gospel and the eternal impact it was having on countless precious souls. Instead of getting ourselves into a legal battle we knew we couldn't win, we decided to walk away. All we wanted was the mail that was meant for us, the two hundred and fifty thousand books that bore our names, and the key to the locked room. Since our name was printed on the letters, books, and sign, refusing them would have been difficult. While Denise and I were able to take the directors who had worked with us for over a decade to our new office in a different city, we lost everything else. We tightened up the law after that to make sure nothing like that could ever happen again.
Coworkers were astounded by how calm I remained during those events. They questioned, "How are you able to leave this situation so amicably, showing no ill will toward this man?" However, the truth was that I actually felt sorry for him, and that I was more worried about his eternal soul than our own. I knew he had to be badly fooled to act that way. I also knew that God would exact justice if he didn't apologize and make amends. I hoped against hope that he wouldn't reap anything too bad, but there's a universal law at play here—the law of sowing and reaping—and every seed bears fruit eventually, no matter how good or bad it was to begin with. This man had sown evil seed, and unless he repented, it would sprout and bear fruit in the form of death and destruction.
Paul urged Christians who had been wronged to instead "give place unto wrath" in Romans 12:19: "Dearly beloved, avenge not yourselves, but rather give place unto wrath: for it is written, Vengeance is mine; I will repay, saith the Lord." Taking this verse at face value, it was time for me to step aside and let God sort things out. I thanked our staff for not being in the "vengeance business." But I understood that if this man didn't change his ways, he would inevitably suffer the dire consequences of his wicked deeds.
A group of Jewish unbelievers and pagan pagans were persecuting and abusing the Christians in Thessalonica when Paul wrote to them. It was then that he told them, "Seeing it is a righteous thing with God to recompense tribulation to those that trouble you…" Thessalonians 2:1).
Let's spend some time today unpacking this verse to see what life-changing insights we can glean.
The Greek word dikaios, translated here as "righteous," means just, fair, or right. With God literally means "alongside God," which is a literal translation of the Greek word para. Para, on the other hand, can mean with God or God's way.
That's the way it is with Rick Renner" is an expression that can be used to describe my behavior, habits, or general approach to life. As in the previous verse, the word para is used to convey the state of affairs "with God." The term is used to describe God's character or demeanor; by this, I mean His actions, routines, or preferences. The first part of this verse can thus be paraphrased as follows: "God deals with us fairly and justly. It's just the way He is; it's what He's always done.
Paul then went on to explain a particular aspect of God's character that we should be aware of. Seeing it is a righteous thing with God to recompense tribulation to them that trouble you, the apostle wrote.
The word "recompense" deserves our attention now. Composed of the prefix "anti," the prefix "apo," and the suffix "-domi," this term has its origins in Greek. When you combine the meanings of anti (opposite), apo (return), and didomi (gift), you get antarctica. Compounding these three words, as in 2 Thessalonians 1:6, means to make amends, pay back, repay, give someone exactly what they are owed, give someone exactly what they deserve, or settle a score. It more than makes up for what was owed. Given this, the verse could be rephrased as follows: "God deals with people in a just and fair manner." "It is His behavior, habit, and way of doing things to make sure that everyone gets exactly what they deserve.
This "divine payback system" operates like a law and doesn't necessitate God's direct participation. Be not deceived; God is not mocked: for whatsoever a man soweth, that shall he also reap (Galatians 6:7). The spiritual law of karma states that if you do good for others, they will return the favor. In accordance with this spiritual law, if you wrong other people, other people will wrong you as well. Exactly what you put out into the world is what you'll get back. (See "Sparkling Gems" from August 2 for a deeper dive into the law of sowing and reaping).
The way people have treated you is a predictor of how they will treat you in turn. In a similar vein, you can expect to be treated by others the way you have treated them. Because of its spiritual nature, this rule cannot be disregarded.
Now, this doesn't mean that if you've ever been mistreated, you're automatically guilty of treating others badly. But if you treat others poorly or have a negative attitude, the bad fruit you sow will come back to haunt you unless you repent from your heart.
In contrast, if you have been a blessing to others, this spiritual law will ensure that you, too, reap the benefits of good karma. And if someone has wronged you or tried to hurt you on purpose, this spiritual law will make sure they get what they deserve.
What we do to others is exactly what will be done to us; this is a fixed spiritual law that always works, so we should be careful in how we treat others. Repentance is the only means by which bad seed can be destroyed and its fruit prevented.
Those who cause you trouble will face "tribulation" in return, Paul said. So, what does it mean to go through a "tribulation"? The word is thlipsis, from the Greek language, and it is so forceful that there can be no misunderstanding. It's a metaphor for a highly stressful situation. Paul frequently used this word to describe torturous, crushing circumstances that were impossible to endure in his letters. One possible interpretation of this verse is, "God will give a full measure of affliction to those who have afflicted you." The Greek word thlipsis is frequently translated as "affliction."
When Paul used this word, he meant to convey the idea that God's punishments for wrongdoing are complete and utter. When someone intentionally causes us trouble, they will get what they give.
Even in this realm, the law of sowing and reaping is activated, and a person's treatment of others is a factor in the kind of justice he receives from the Lord. The punishment system that God uses is fair and just.
Second Thessalonians 1:6 may be interpreted as follows:
You can rest assured that those who have wronged you will receive exactly what they deserve because it is God's normal behavior to be just and fair. He will make sure they are paid back for the difficult times they've caused you and that they feel no ill effects from the situation. In other words, your tormentors will feel just as much pain as they have caused you.
The man I told you about at the beginning of today's Sparkling Gem is the best example I know of God's system of karma payback. He had a chance to make things right with God and with me by repenting. He passed up a chance that seemed to have been handed to him by the gods. I regret to say that he has become an entirely discredited figure in modern society. Denise and I decided that we would never tell anyone about what he had done, so his loss of reputation had nothing to do with our response to his transgressions. We were silent and left it in God's hands, but we saw the promises of 2 Thessalonians 1:6 fulfilled in this man's life. This time, he got what he deserved for his mistreatment of others.
Therefore, I urge you to avoid harboring resentment toward those who have wronged, abused, or falsely accused you. God alone has the right to exact vengeance, so you must stay out of it. Learn to forgive those who have wronged you and put the outcome in God's hands. And if you have wronged other people, I urge you to make amends as soon as possible. In a world where the law of sowing and reaping is in full effect, it makes sense to do whatever you can to avoid legal trouble.