According to what the Bible says, God has given each of us gifts. Even though they are special and different from one another, our gifts are our riches, and we should utilise them to exalt God and improve people's lives in His name.
According to the Bible, "Now the manifestation of the Spirit is given to each for the benefit of the community" (1 Cor. 12:7).
According to James 1:17, all gifts come from God. Although everyone of us has unique abilities and spiritual gifts that can be used to advance God's kingdom, they are all significant. Paul compares the members of the body of Christ to various body parts in 1 Corinthians 12.
Bible Verses From The Bible
There are few things in life that I believe in more than the word of God. It has helped me discover my purpose, find strength, and make sense of difficult times. Reading the Bible isn't always easy—and can be especially confusing at times—but it's important not to give up. The word of God is the most powerful thing in the world, and I want to share with you some Bible verses I've found most inspiring so you can use them on your own journey:
Isaiah 41:10
God is the only one who can give us strength.
When you're facing a challenge in your life, you may feel like you need to find strength somewhere else. You might look at your friends or family and wonder if they will be able to help you make it through this difficult time. But no matter what kind of trial you are facing, God is always there for us—and He will help us make it through our problems. God will give us strength to face our challenges because He knows that we have His love and support in times of need. We don't have to do things on our own; instead, we can rely on God's power and grace in order to overcome any obstacle that comes our way (Psalm 28:7).
Romans 8:28
Romans 8:28: And we know that all things work together for good to them that love God, to them who are the called according to his purpose.
We have been given the power of God, and this is a good thing. Through faith in Jesus Christ, you have the power to overcome any obstacle in your life because He will always be with you through every challenge you face.
Love your enemies and pray for those who persecute you so that they may see what love looks like through your actions instead of your words–and they will come to know Christ as well!
2 Corinthians 12:9-10
2 Corinthians 12:9-10 says, "My grace is sufficient for you, for my power is made perfect in weakness. Therefore I will boast all the more gladly about my weaknesses, so that Christ's power may rest on me. That is why, for Christ's sake, I delight in weaknesses, in insults, in hardships, in persecutions and difficulties; for when I am weak then I am strong."
God promises to always be with you during your struggles. He will give you strength and comfort every day of your life; this is His promise!
Philippians 4:13
Philippians 4:13 is a verse that talks about how we should always be joyful. It says, "I can do all things through Christ who strengthens me." This means that you don't have to be sad or worried because Jesus is with you and will help you in all your needs. You can also use these words when someone else is sad or worried, to comfort them and tell them that God will take care of their problems.
Psalm 46:1
"God is our refuge and strength, a very present help in trouble."
"It is God who gives us strength to protect us from danger, and he will keep us safe from any threat."
"God will shield you with his wings so that no harm can come to you."
"No one can defeat God; he is the king of kings, the ruler of all nations. His rule will last forever!"
Joshua 1:9
Joshua 1:9 is a Bible verse about strength. Joshua 1:9 says, "Have I not commanded you? Be strong and courageous." This is a great verse that reminds us to always be strong and courageous. We need to always be brave when we face situations that are hard or scary because it's normal to be afraid of things that are new or unknown. But being brave means facing these fears and doing what needs to get done anyway, even if they make you nervous or scared to do it on your own! You can do anything when you have God with you – He will give you the strength, courage, faith and hope necessary for whatever task lies ahead of you!
Romans 15:13
"I can do all things through Christ who strengthens me." (Philippians 4:13)
This passage is worth memorizing, because it's a reminder that we have the power of God inside of us. We're not alone in our struggles or circumstances; Jesus is there with us, every step of the way.
Isaiah 43:2
"When you pass through the waters, I will be with you; and when you pass through the rivers, they will not sweep over you. When you walk through the fire, you shall not be burned; neither shall the flame kindle upon you. For I am the Lord your God, the Holy One of Israel, your Savior."
God is my strength and hope. He is all that I need in this life because he has saved me from myself and given me new life!
Deuteronomy 31:6
I love this verse because it reminds us of the importance of being strong and courageous. We must be strong for our families, friends and the people around us, but especially for God. It is important to remember that when we are weak and tired, God will give us strength so that we can continue fighting His battles. As long as we are ready to face whatever comes our way with courage, faithfulness, confidence and bravery then we have nothing to worry about because He will always be there with us supporting every decision we make along the way!
Romans 8:31-32
Romans 8:31-32 is a powerful reminder of God's presence and power. He is our strength, refuge, protector and love. God wants to give us peace and joy in this life—and even more in eternity.
If you're feeling alone or afraid right now, remember these verses: "If God be for us, who can be against us?"
The word of God is the most powerful thing in the world
The word of God is the most powerful thing in the world. It has the power to change lives and turn situations around, bring healing where there was none before and make miracles happen. If you want to see your situation change for the better, then you need to get involved with God's Word!
You probably noticed in the verses I mentioned above, that each one of them is about strength and courage. This is no coincidence! The Bible tells us over and over again how great God's love for us is. It also reminds us that He will never leave our side, even when we feel like giving up. In fact, these scriptures should be a constant reminder of how much he loves us all day long! So next time you are feeling down or need some motivation, just remember these words from another verse: "I can do all things through Christ who strengthens me."
Motivational Bible Verses
We pray that the following Bible verses will encourage you and remind you of the hope we have in Christ.
Note: Unless otherwise indicated, the following verses are from the English Standard Version (ESV) Bible.
John 16:33
"In the world you will have tribulation. But take heart; I have overcome the world."
Isaiah 41:10 (NIV)
"So do not fear, for I am with you; do not be dismayed, for I am your God. I will strengthen you and help you; I will uphold you with my righteous right hand."
Philippians 4:6–7 (NIV)
Do not be anxious about anything, but in every situation, by prayer and petition, with thanksgiving, present your requests to God. And the peace of God, which transcends all understanding, will guard your hearts and your minds in Christ Jesus.
Psalm 34:4–5, 8
I sought the LORD, and He answered me and delivered me from all my fears. Those who look to Him are radiant, and their faces shall never be ashamed. Oh, taste and see that the LORD is good! Blessed is the man who takes refuge in Him!
Romans 8:28
And we know that for those who love God all things work together for good, for those who are called according to His purpose.
Joshua 1:9
"Have I not commanded you? Be strong and courageous. Do not be frightened, and do not be dismayed, for the LORD your God is with you wherever you go."
Matthew 6:31–34 (NIV)
"So do not worry, saying, 'What shall we eat?' or 'What shall we drink?' or "What shall we wear?' For the pagans run after all these things, and your heavenly Father knows that you need them. But seek first His kingdom and His righteousness, and all these things will be given to you as well. Therefore do not worry about tomorrow, for tomorrow will worry about itself. Each day has enough trouble of its own."
Proverbs 3:5–6
Trust in the LORD with all your heart, and do not lean on your own understanding. In all your ways acknowledge Him, and He will make straight your paths.
Romans 15:13 (NIV)
May the God of hope fill you with all joy and peace as you trust in Him, so that you may overflow with hope by the power of the Holy Spirit.
2 Chronicles 7:14
"If my people who are called by My name humble themselves, and pray and seek My face and turn from their wicked ways, then I will hear from heaven and will forgive their sin and heal their land."
Philippians 2:3–4
Do nothing from selfish ambition or conceit, but in humility count others more significant than yourselves. Let each of you look not only to his own interests, but also to the interests of others.
Isaiah 41:13
"For I, the LORD your God, hold your right hand; it is I who say to you, 'Fear not, I am the one who helps you.'"
1 Peter 5:6–7
Humble yourselves, therefore, under the mighty hand of God so that at the proper time He may exalt you, casting all your anxieties on Him, because He cares for you.
Psalm 94:18–19
When I thought, "My foot slips," Your steadfast love, O LORD, helped me up. When the cares of my heart are many, Your consolations cheer my soul.
Revelation 21:4
"He will wipe away every tear from their eyes, and death shall be no more, neither shall there be mourning, nor crying, nor pain anymore, for the former things have passed away." And He who was seated on the throne said, "Behold, I am making all things new."
Bible Verses For Comfort And Encouragement

1
JOHN 1:9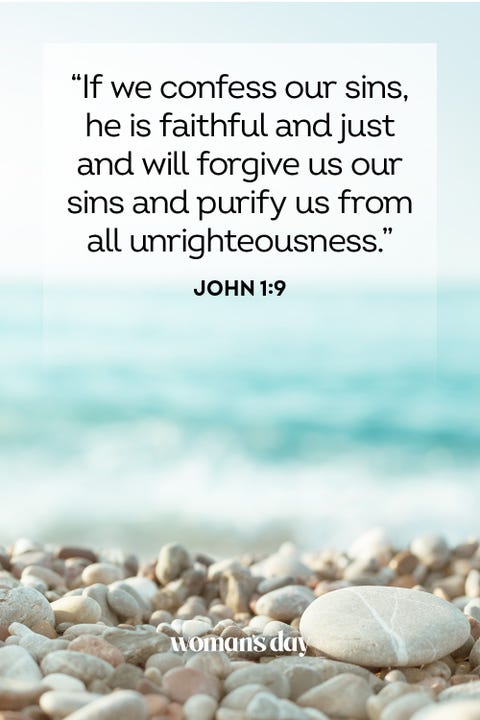 "If we confess our sins, he is faithful and just and will forgive us our sins and purify us from all unrighteousness."
The Good News: Every person makes mistakes. No one is perfect. But owning up to those mistakes can clear the slate.
2
DEUTERONOMY 31:8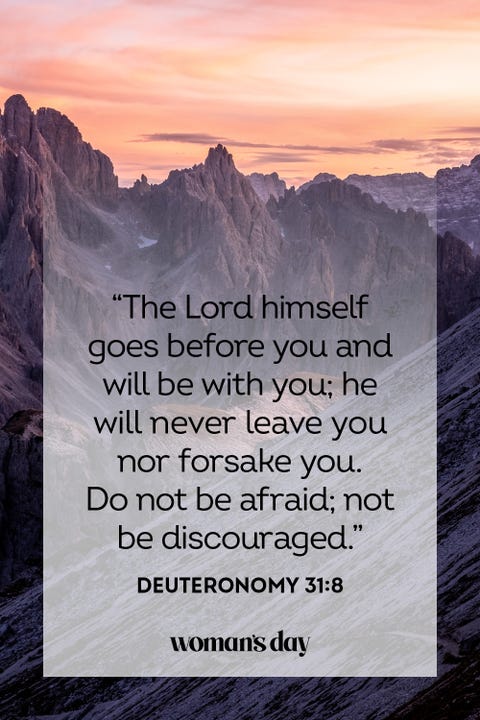 "The Lord himself goes before you and will be with you; he will never leave you nor forsake you. Do not be afraid; not not be discouraged."
The Good News: Trust that the lord will guide you out of any difficult situation.
3
JOHN 16:22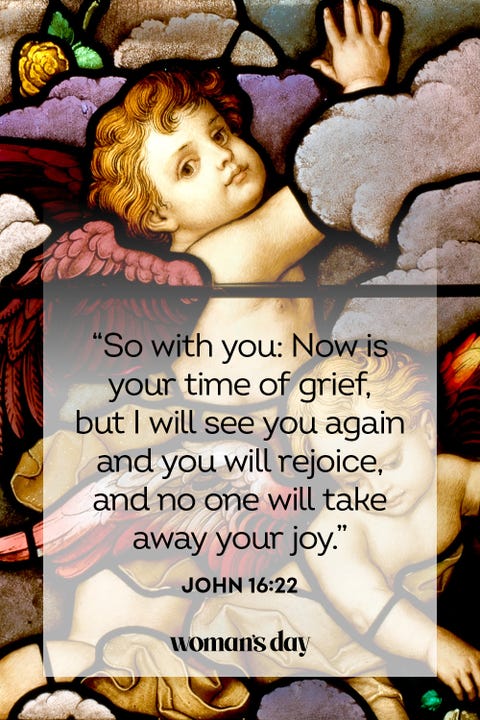 "So with you: Now is your time of grief, but I will see you again and you will rejoice, and no one will take away your joy."
The Good News: You are the only person who can control your joy — don't give that power to anyone else.
4
ROMANS 15:13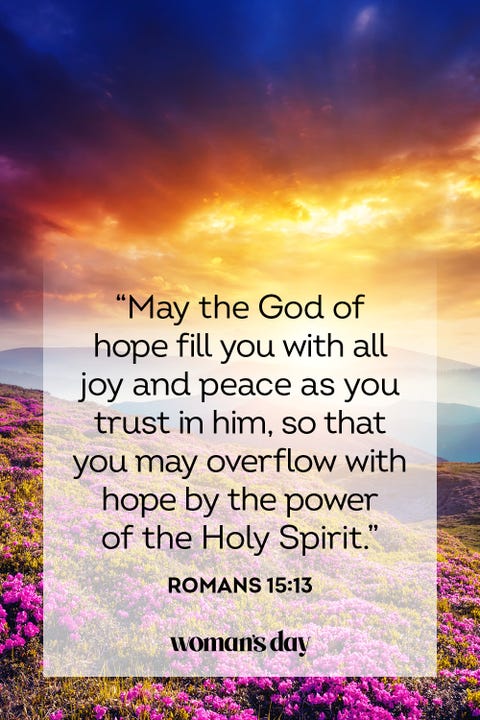 "May the God of hope fill you with all joy and peace as you trust in him, so that you may overflow with hope by the power of the Holy Spirit."
The Good News: If you allow it, the Holy Spirit can provide strength when you are lacking it.
5
PSALM 46:1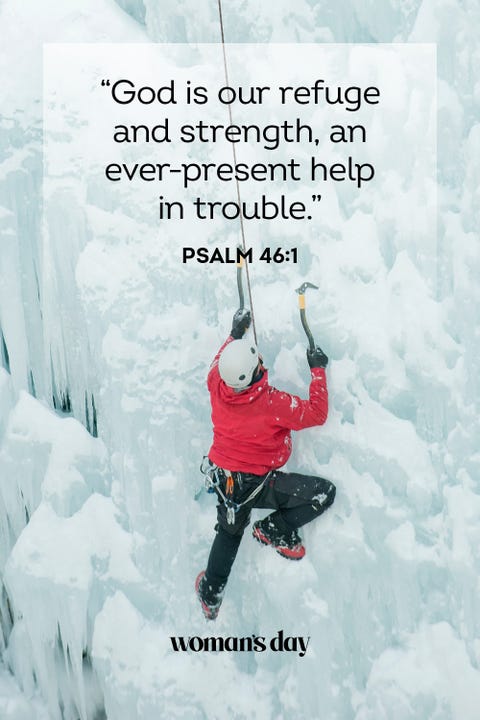 "God is our refuge and strength, an ever-present help in trouble."
The Good News: God will always help you through, regardless of your relationship with him.